FILLING LINES AND PERFUME
SEMI-AUTOMATIC TUBES CUTTER Z-2007 TYPE
Semi-automatic Tubes Cutter Z-2007 is a pneumatic device designed to shorten atomizers or aerosol valves tubes to desired length within the range of 45 – 290 mm. Cutting blade forms a v-shaped edge on the tube, which helps to prevent clinging the end of the tube to the bottom of the bottle while dispensing the content. In standard, the device is equipped with one centering adapter allowing for work with one tube diameter (from 2 mm to 5.5 mm), which was specified in order. The device is also equipped with cut cycles counter.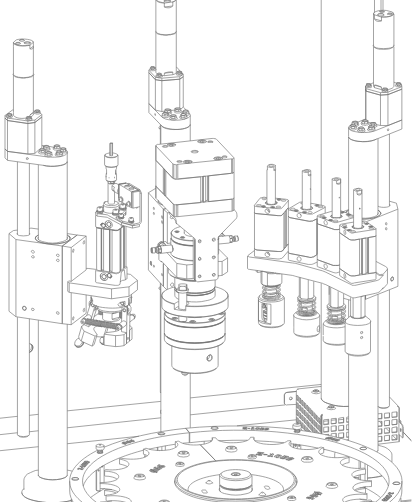 Working parameters
Production capacity:
~600 - 1800 pcs/h (10 - 30 pcs/min). The maximum capacity is dependent work organization in the process line and operator's experience.
Output tube length range:
45 – 290 mm
Tube diameters:
ø2; ø 3; ø 4.5; ø 5.5 (depending on the installed adapter)
Overall dimensions and weight
Height:
245 mm (adjustment range: 25 mm)
Required supply pressure:
0,6 ÷ 0,8 MPa (6 ÷ 8 bar)
Air consumption:
0.06 litre/cut
Compressed air quality:
According to ISO 8573-1 for temp. 15÷35°C => IV Class