FILLING LINES AND PERFUME
SEMI-AUTOMATIC CLEANING MACHINE Z-2059 TYPE
Semi-automatic Cleaning Machine Z-2059 is a device used for removing impurities from glass bottles before filling using blowing nozzle (cleaning head) combined with vacuum system. The bottles are to be provided manually. Device is powered and controlled by compressed air only. Device is equipped with its own vacuum generator and a separate filter, where all impurities and particles are stored.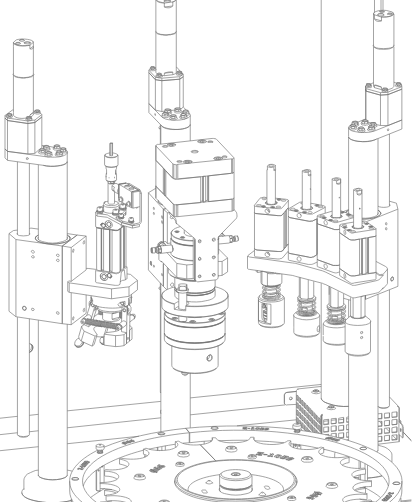 Working parameters
Production capacity:
Standard capacity is 1000 pcs/h (16 pcs/min). Maximum capacity depends on bottle volume, work organization and operator's experience
Bottles neck diameters [mm]:
ø12 mm ÷ ø24 mm in standard version. May vary if neck geometry is unusual.
Bottles heights [mm]:
40 ÷ 125 mm in standard version.
Type of power supply:
Compressed air
Required supply pressure:
0,8 ÷ 1,0 MPa (8 ÷ 10 bar)
Air consumption:
9 litres/cycle
Air supply connection:
Pneumatic quick release coupling, RECTUS 26 series (DN 7.2) male plug installed in machine
Quality of compressed air:
4th class according to ISO 8573-1 for temperature range 15 ÷ 35°C. High purity class air filter is built in the machine.